Abundant Waters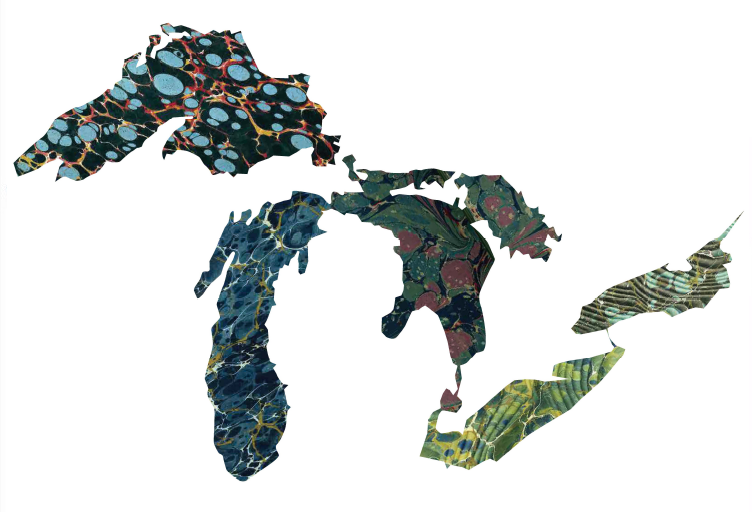 WELCOME! The Clarke Historical Library is proud to present Abundant Waters: Our Most Precious Resource digital exhibition. This project was designed and created as a complementary counterpart to our physical exhibition at the Clarke Historical Library at Central Michigan University to celebrate the importance to Michigan of the water in the Great Lakes Basin.
For thousands of years, the Great Lakes—and Michigan's water resources in general—have provided people with freshwater for survival, spiritual rejuvenation, a means of travel, and a place to have fun. Water has played an integral role in society throughout time; however, it has not been without its own disasters. Invasive species, pollution, and industrialization are only some of the issues the Great Lakes have faced. In the last few decades, conservationism has reinforced the importance of these natural wonders. The challenges that these great inland seas have posed to people in Michigan have inspired innovative solutions to problems of transport and energy sources alike. Water features in the earliest tribal creation stories and remains integral to the lives of those who choose to live in the Great Lakes State today. For most who live here, the abundance of freshwater is an aspect of our lives that we take for granted. Although most of us have a general awareness of the water around us—and many would proclaim deep love for the Great Lakes State's rivers, lakes, and waterways—how often do we actually think about our relationships with this most precious resource? Is there really an abundance of freshwater?
Launched in 2022, the digital exhibit is a platform dedicated to Michiganders' relationships with their water resources. The material found here has been drawn from the Clarke Historical Library's physical and digital collections, the strengths which lie in the history of Michigan, Central Michigan University, and International Children's Books. Highlights of Abundant Waters  include images of the construction of the Mackinac Bridge, manuscript canoe manifests from the 18th and 19th century fur trade, the disastrous pollution of the Pine River watershed and its $354 million dollar clean-up, and the Hemingway family scrapbooks from their vacations in northern Michigan. 
Updating and uploading continues in the Clarke Historical Library, with new items being added on a monthly basis. Check back again soon for new additions to our exhibits as well as new exhibitions and featured items.